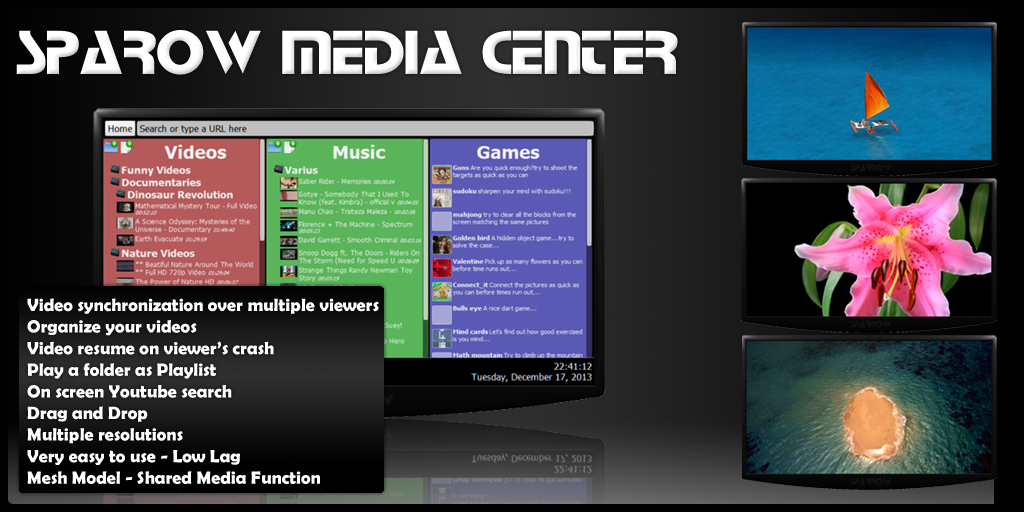 Introduction
This product is designed to provide a very easy and simply interface for your media experiences inside second life's environment. To be able to use this system you will need to have a viewer that is capable of playing sharing media (media on prim). Official viewer and many other TPV support this functionality already. For more informations of how you can enable this function on your viewer, please read the instructions of your viewer's supplier website. Also it is required to have flash player 11 and JavaScript enabled.
Main Screen
Your main screen is separated by 3 sections. The top section (navigation panel) the middle section (body panel) and the lower section (taskbar panel). The navigation section contains the contains 2 buttons (home and back) and 1 search/url input where you can enter a url for direct play of a video or a searching query.
Searching
Searching for a video is very interactive and fast way to do inside your media center. All you will have to do is to type the name on the top search menu and your Media center will provide the results from various of search engines on your screen. You can navigate thrue the results with the next/previous buttons till you find the video you looking for. Then with a simple click on the video, the media center will start the playback.
Video Synchronization
Your Media center currently supports video synchronization over YouTube videos. That means all the viewers are fully synchronized on the current video's second. If any of the viewers crashed during the playback or enters in the middle of the video, it will resumes and synchronize him on the current second the other viewers are currently on.
Inventory
Each time a video played, one inventory item will be created and placed on your main screen. You can create your collections of videos separate them into different folders and keep them organized at all times. You can create folders by clicking the +folder icon. To move a file or folder you simply left click and drag the item into another item (drag and drop functionality)
Click here for live demo.