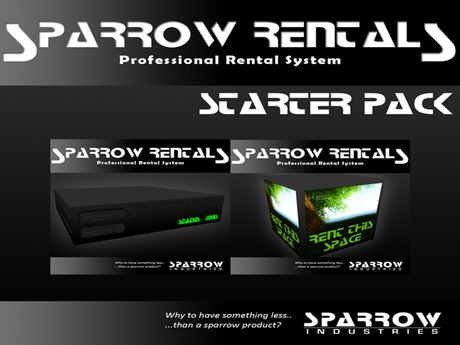 Sparrow Rentals StarterPack
Sparrow Rentals System is light, fast, unique and lag free Rental System with web interface. At the bottom of this notecard there are links with videos explaining the most important features.
Sparrow Rentals StarterPack Vendor contains: 
☺ Sparrow Rentals Server Boxed 
☺ My Sparrow Pass 
☺ Sparrow Rentals Rentalbox Boxed
PREPARATIONS: 
There are some steps that you need to make before you start using Sparrow Rentals (Professional Rental System). 
We assume that you already own piece of land or more that you want to rent out to others and make business from that. 
Prepare parcel, shops or rental spots for renting.
OTHER FEATURES IN THE WEB SITE FOR ALL PACKAGES: 
when you enter your account pages you will see this menus: 
Accounts (there you can create as many as you need accounts for using this system) 
Lands (page where you can set up virtual cards for each existing spot that you want rent in second life) 
Tenants (will give you list with all your tenants and details about their tenancy) 
Groups (will give you option to create as many groups as you need with sharing between group members as you want) 
Transactions (will keep details of each transaction made through this system) 
Settings (menu where you can Add your Brand Name, Logo, Set price per prim, Add managers, Choose messages to be sent) 
Help (will give you videos where you can find help for each step in this system)
LINKS FOR THE HELP VIDEOS: 
1. http://www.youtube.com/watch?feature=player_embedded&v=mllQADUkDoM#! 
2. http://www.youtube.com/watch?v=1W1xCmvuqCs&feature=relmfu 
3. http://www.youtube.com/watch?v=YzF6Gb6weAU&feature=BFa&list=ULYzF6Gb6weAU 
4. http://www.youtube.com/watch?v=IiDuldjrhK8&feature=channel&list=UL 
5. http://www.youtube.com/watch?v=FLMuCp3M5xI&feature=channel&list=UL
SPARROW CUSTOMER SUPPORT: 
If you need more help or have question about Sparrow Rentals Professional Rental System please contact Sparrow Rental System Manager vinaik Resident, or fill a ticket at http://my.sparrowindustries.net/Tickets and someone will contact you as soon as they can. 
You can also contact any of Sparrow Team member at Sparrow Industries Main Store:
http://slurl.com/secondlife/Kimberley/126/128/22
Thank you for using Sparrow Industries Services!